Cavendish Pianos - a new era for British piano makers


"I'm sorry we do not have such a thing as an English Piano".
These are the words Adam and Charlie Cox, a husband and wife team running Yorkshire Pianos, found themselves saying to many of their customers looking for a new piano.
"People grew up with British pianos at school and at home and we find that when people come to buy their own piano they are often looking for that mellow sound that they grew up with", says Charlie.
When the Kemble factory closed in Milton Keynes a few years ago, it sounded the death knell for British pianos making. It was the last remaining factory and when the gates closed for the final time skilled workers, some of whom had been involved in the piano industry all their lives, found themselves with nowhere to turn.
"We felt we had no choice but to either lose British Piano manufacturing forever, or try to resurrect the art of making pianos in Britain" says Adam.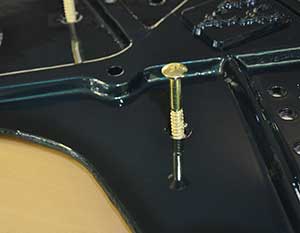 Having traded for 15 years in Leeds as Headingley Pianos, the team searched for new premises to not only act as showroom, but also as piano manufacturing base. They looked at shops, industrial units, church-halls… even a church! After well over a year's searching they had almost given up looking.
"Then one day I was on a bike ride to Bolton Abbey" says Adam "I knew immediately it was the right place for us as I peered through a window and saw a large barn of a room. What an acoustic I thought!"
Of course when they took it on it is was more like barn than a piano showroom and workshop but with the use of a bank loan and the help of local Wharfedale firms they were able to transform it and it is now perfect for their needs.
"Lots of people ask if it was originally a church or chapel" says John Spencer, head technician, "reclaimed ecclesiastical panelling and doors were used in the conversion but it was built originally as a forge." Situated just off the busy A59 at the foot of Beamsley Beacon with wonderful views in all directions it's certainly an inspiring place to work.
The Duke and Duchess of Devonshire paid them a visit early on and were interested and then excited at the prospect of a piano shop and manufacturing base on their estate at Bolton Abbey.
"They have backed our project every step of the way so we felt 'Cavendish' was the perfect name for our pianos, being the Duke and Duchess' family name. Without their kind patronage none of this would have been possible", says Charlie.

"We often talk in orchestral terms when describing piano sound. We are looking for woodwind with undertones of strings rather than brass."
"Price-wise things are starting to go full circle" says Charlie. The days of cheap far Eastern pianos are ending as their manufacturing costs are steadily going up (some Chinese pianos have almost doubled in cost in the last few years) and shipping prices are soaring. We find ourselves in the position where British goods actually can compete with far eastern goods in the UK.
"Unlike microwave ovens, pianos are one of those things that are better used in their country of origin" says Adam "They are very susceptible to climate changes. After all, you have to remember they are a complicated wooden machine which has been made in the same way for a hundred years."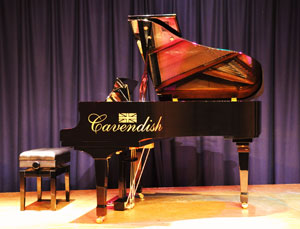 They have already had interest from many quarters and are just managing to keep up with orders at the moment. Cavendish pianos are even being well received in China explains Adam, "we exhibited at the enormous Shanghai Music Fair last year which was a real eye-opener. There is such a great appetite for quality pianos in China." Export to China now makes up a large part of Cavendish sales.                "We have been involved with pianos all our working lives - they are just such beautiful things! We feel proud to be making them" say Adam and Charlie.    It seems to me they have a right to feel proud producing pianos in Yorkshire using not just traditional skills, but love.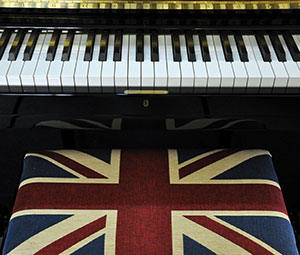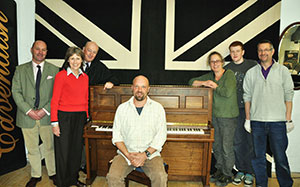 There is no shortage of skilled workers in the piano industry and allied trades in this country. In fact, many components are still made here and exported all over the globe for piano making abroad.
"We felt it was crazy that British expertise was being used to make the highest quality components for the piano industry and yet no finished products were being made in this country" says Adam. For example, Hainsworth in Leeds produce cloth and felt used in the manufacture of many German pianos such as Steinway.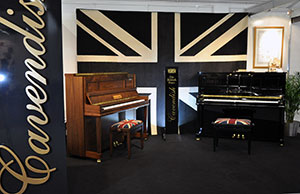 "Their quality is second to none and they're on our doorstep while people are buying pianos manufactured in the Far East!"
As one of the oldest companies in the UK (established 1783) Hainsworth certainly know what they're doing when it comes to textiles and their knowhow and heritage is legendary in the piano trade. It's no coincidence that one of the leading woollen mills should be in Leeds, famous throughout the world for its history of textile production. It was however coincidental that their wood source, British Hardwoods, should be based in the Yorkshire Dales.
Also their supplier of wood finishes is near the traditional cabinet making town of Thirsk. Silchrome Plating in Leeds, founded in 1949, work in everything from aerospace to classic cars. Cox says "We quickly started to realise we were not making 'British pianos' but 'Yorkshire Pianos'.
"We were not using Yorkshire firms as a gimmick or because we liked the idea but simply because they are the best in their field."
Surrounded by pianos in various states of construction, John Spencer, head technician at Yorkshire Pianos, sits down at a newly finished Cavendish piano. "Of course the sound is the important thing" says Spencer. "We are looking for that rounded, European tone that is part of British piano heritage." Spencer plays a smooth sounding chord then moves over to a well known Far Eastern made piano and does the same. The difference is staggering!
The Cavendish team
The team with Jamie Cullum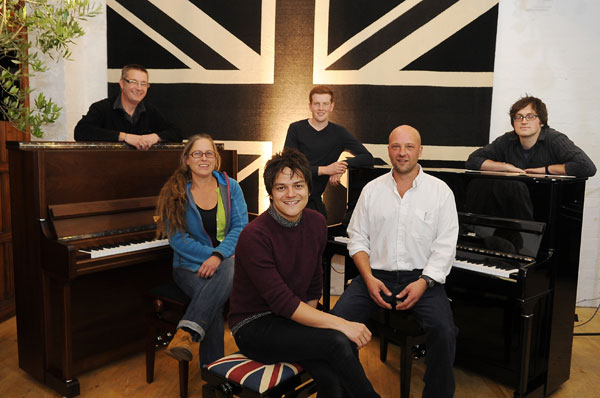 Adam Cox
Managing Director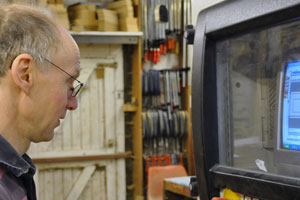 Chris Foxton
Head Cabinet Maker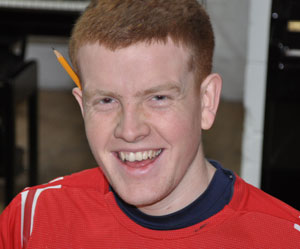 Adam Connolly
Apprentice Piano Maker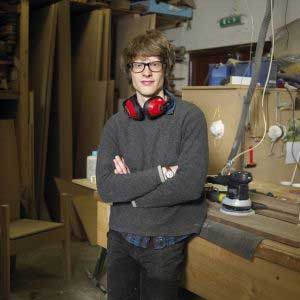 Jason Winder
Furniture Maker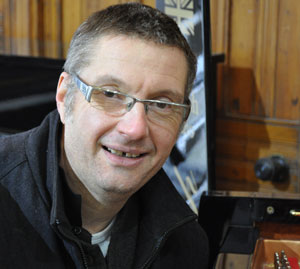 John Spencer
Head Piano Technician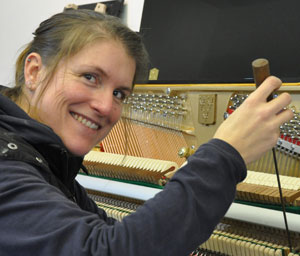 Jackie Barron
Piano Technician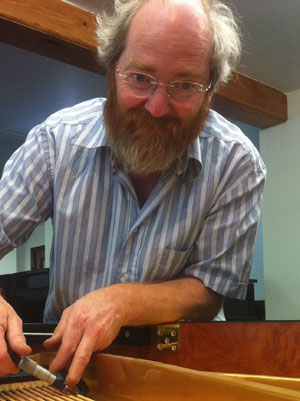 Barney Unwin
String Maker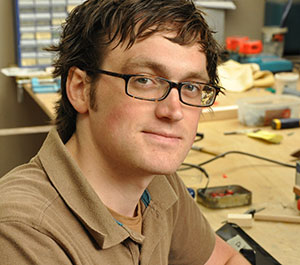 Joe Ellis
Technician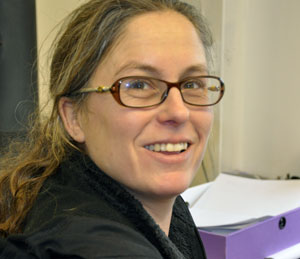 Charlie Cox
Financial Director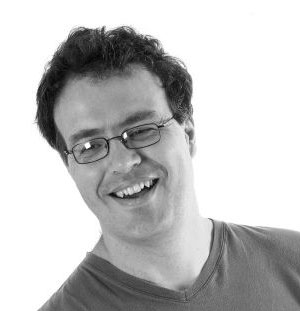 David Wilson
Piano Designer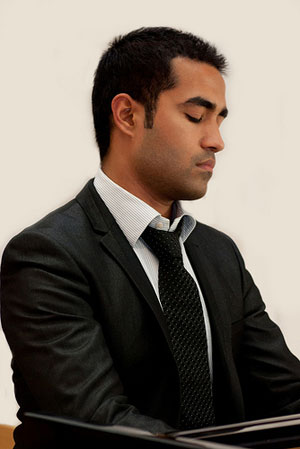 Emmanuel Vass BMus(Hons), CT ABRSM, DipABRSM
Piano Consultant