Reviews

Cavendish Pianos really are in a field of their own
Richard Morrison
The Times, February 27 2013 [original article]
Harrods may no longer sell pianos, but there's still a future for the old joanna — in an idyllic Yorkshire dale
When Harrods closed its piano department this month, brusquely declaring that pianos "no longer warranted the space", many commentators were quick to proclaim a symbolic moment. Out rolled the obituaries: yes, the old joanna has had a good run (Bartolomeo Cristofori made the first three centuries ago), but surely the rise of electronic keyboards has now rendered it as obsolete as the typewriter.
The figures seem to justify the gloom. Fewer than 5,000 new "acoustic" pianos are sold in Britain each tear, compared with 20,000 in the 1980's. And if you time-travelled back a century, to the days before radio and television, you would find pianos in millions of British pubs and parlours, the prime source of home entertainment for rich and poor alike. That was the era when one small patch of North London, centred around Kentish Town and Camden, boasted 300 piano-making firms employing 6,000 people. Even in 1951, when the Royal festival Hall opened, Britain's prestigious new concert venue was equipped not with Steinways but pianos made by Danemann of Islington.
Today? One by one all those companies merged or closed. Kemble, the last British maker, shut its factory in 2009. And if it hadn't been rescued with Japanese money (Yamaha) the end would have come years earlier.
Like cars and ships, pianos seemed to be items the British once manufactured superbly, then gave up trying to make.
Chinese competition."
Are Chinese pianos any good?
"Within the trade they are regarded as being well finished, in the sense that they look smart, but pretty dire in terms of tone," Laurence says. "You get what you pay for."
Laurence's view is that what killed the British piano industry isn't the rise of electronic instruments (most of our piano-makers were floundering decades before that), but lack of foresight. "british piano-makers fell between two stools. They never equalled the Germans for quality. But when Far Eastern makers came along we couldn't rival them for price."
However, it isn't true that british piano-making is dead. Not quite. Broadwood still makes pianos - though fewer than one a month. In its 19th-century heyday it was producing 2,000 of its signature "square pianos" a year, and its clients included Beethoven and Chopin. It seems depressingly apt that this famous company's home should now be a museum (Finchcocks, at Goudhurst in Kent).
But in an idyllic Yorkshire dale there is a much more promising scene. Just outside Ilkley, a stone's throw from picturesque Bolton Abbey, eight craftsmen painstakingly apply ancient skills in what was an old forge.
This is Cavendish Pianos - which is not the last remnant of some Victorian family firm, but a new company. Founded by the husband and wife team of Adam and Charlie Cox, Cavendish spent two years on prototypes, then sold its first piano a year ago. Since then it has been making one instrument a week. A tiny operation compared with those Chinese factories, but a notable renaissance for British piano manufacturing.
But the story of decline is more nuanced, and (mercifully) slightly less apocalyptic than that. As one distinguished pianist said to me last week: "Who went to Harrods to buy a piano anyway? It's a posh store flogging fancy handbags to foreign tourists." In London there are still a dozen "proper" piano showrooms. And although sales of new pianos are down, thousands of secondhand uprights and grands change hands each year. Add to that the millions of youngsters learning keyboard skills on cheap electronic instruments (Kawai, the giant Japanese piano company, now sells 16 electronic keyboards for every acoustic piano) and it's clear that the piano is far from dead.
And that's just the British picture. Across the world, more people are tickling the ivories than ever before. Admittedly, one very large Far Eastern country accounts almost entirely for that. Some 40 million Chinese children are said to be learning the instrument, inspired by the charismatic virtuoso Lang Lang. To satisfy that demand there are now 16 enormous piano factories in China, manufacturing hundreds of instruments a week.
But the Chinese have ambitions far beyond their borders. Using economies of scale, and marketing their pianos under invented or bought-in German names such as "Ritmüller", they sell to the West at rock-bottom prices. "It's astonishing," says Alastair Laurence, author of the elegiac history Five London Piano makers and owner of the most famous British piano-maker, John Broadwood & Sons. "The Chinese prices [typically £2,000 for an upright] are actually less than the cost of the raw materials if you make a piano in Britain. That's how hard it is to compete. Even the Japanese are feeling the squeeze. Yamaha's output has halved in ten years because of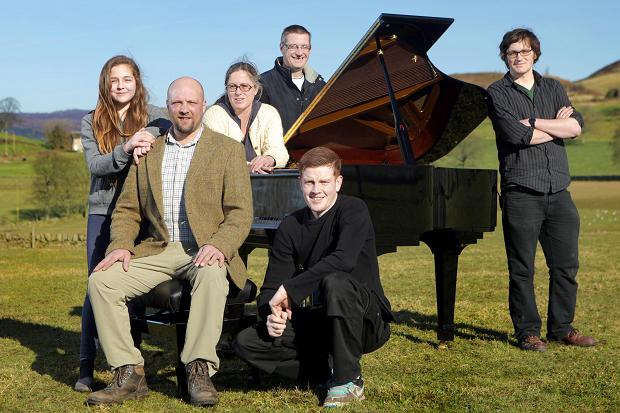 The Cavendish family: from left, Milly, 12, daughter of Adam and Charlie Cox, with technician John Spencer, builder Adam Connelly and technician Joe Ellis
Photography for The Times, Gabriel Szabo/Guzelian
They started as piano repairers and dealers in Leeds, selling Kemble pianos. Then Kemble packed up, but the Coxes still had customers wanting to buy British pianos. That gave them the idea of making their own. The Duke and Duchess of Devonshire, big landowners in the area, put up some of the money (hence the adoption of the Devonshires' family name, Cavendish), skilled piano technicians were recruited, and - most crucially - suppliers of components and materials were sourced locally.
"Compared with the giant production lines in the Far East, we are making something more like organic bacon," Adam says. "Look at that pedal-action. That's British beech attached to British oak, not metal and plastic. That will be working longer than we will. We found a chap in Otley who does superb veneering. The strings are made by Barney, a lovely man in Suffolk. The felts come from Hainsworth, a high-quality textile mill in Leeds that's been there for centuries. And so on.
British piano-makers such as Cavendish for the foreseeable future. "The chances of anyone opening a huge piano factory in Britain are minimal," Laurence says. "On the other hand, we are good at producing bespoke instruments. I see that as the future: local workshops turning out a few instruments each month."
A limited vision, then - but at least the British piano industry now has a future. And British piano-makers are certainly not alone in their battle for survival. In recent years the most famous piano-maker on the planet, Steinway & Sons (now 30% Korean-owned, incidentally), has had to lay off or reduce the hours of its workforces in New York and Hamburg, so savage is the competition from Far Eastern companies making grands that sound as good (or almost as good) at a third of the price. "Yes, even the Germans are struggling," says Laurence, with just a tiny hint of schadenfreude in his voice.
The Times, February 27 2013 [original article]
"All of which is heart-warming - but is piano-making in 21st-century Britain viable? Cavendish pianos aren't cheap. The most "affordable" of the three upright models costs £4,995; the top-price model will set you back ten grand. By comparison, you could buy a reasonable electronic keyboard for well under £1,000. And electronic keyboards can be shifted easily round the house and played through headphones.All of which is heart-warming - but is piano-making in 21st-century Britain viable? Cavendish pianos aren't cheap. The most "affordable" of the three upright models costs £4,995; the top-price model will set you back ten grand. By comparison, you could buy a reasonable electronic keyboard for well under £1,000. And electronic keyboards can be shifted easily round the house and played through headphones.
For that reason, more than any lack of ambition, "small is beautiful" is likely to be the motto for