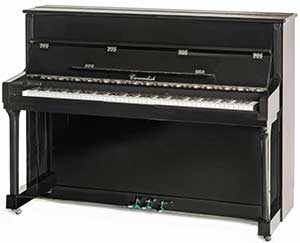 Cavendish Classic 112 upright piano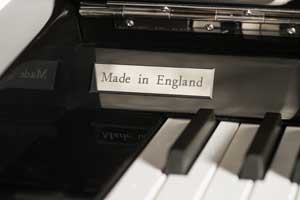 British Made Cavendish Pianos are made to the most exacting standards
Cavendish Classic £6,500
The Cavendish Classic is a British Thoroughbred. Traditionally crafted in The Yorkshire Dales giving a warm, mellow, quintessentially English tone with classic good looks.
The Classic is designed to be compact enough to fit any room but with no hint of compromise in build quality. Unlike other compact pianos which still have a look of the 1970s about them with a 'boxy' appearance, the Cavendish Classic retains the shape of a traditional piano. Tapering front legs support the keybed and an upright top-board (not sloped) ensure not only is it pleasing on the eye but maximizes the internal area for the sound to vibrate giving a fuller tone.
Indeed, despite its modest dimensions, this piano possesses an astonishing richness of tone. The treble is crystal clear without ever being harsh. The mid-range sings naturally and is classically English. The bass surprises by its warmth and fullness but, importantly, without drowning out the treble. The dynamic range of this instrument is large and its reserve of power is very impressive. It is the ideal instrument to see any student through their grades and beyond With superb musical qualities at an affordable price.
This is the antidote to the harsh tone which seems to characterize so  many modern pianos. Lovingly hand-crafted this piano proudly continues the tradition of British pianos building
Dimensions: 112cm high, 150cm wide, 60cm deep Price: £6,500                                                         Includes matching adjustable stool and delivery (UK mainland ground floor)



If you decide to trade-in your Cavendish upright piano for a new Cavendish grand piano at any time within ten years, you will receive a trade-in credit equal to your original purchase price.