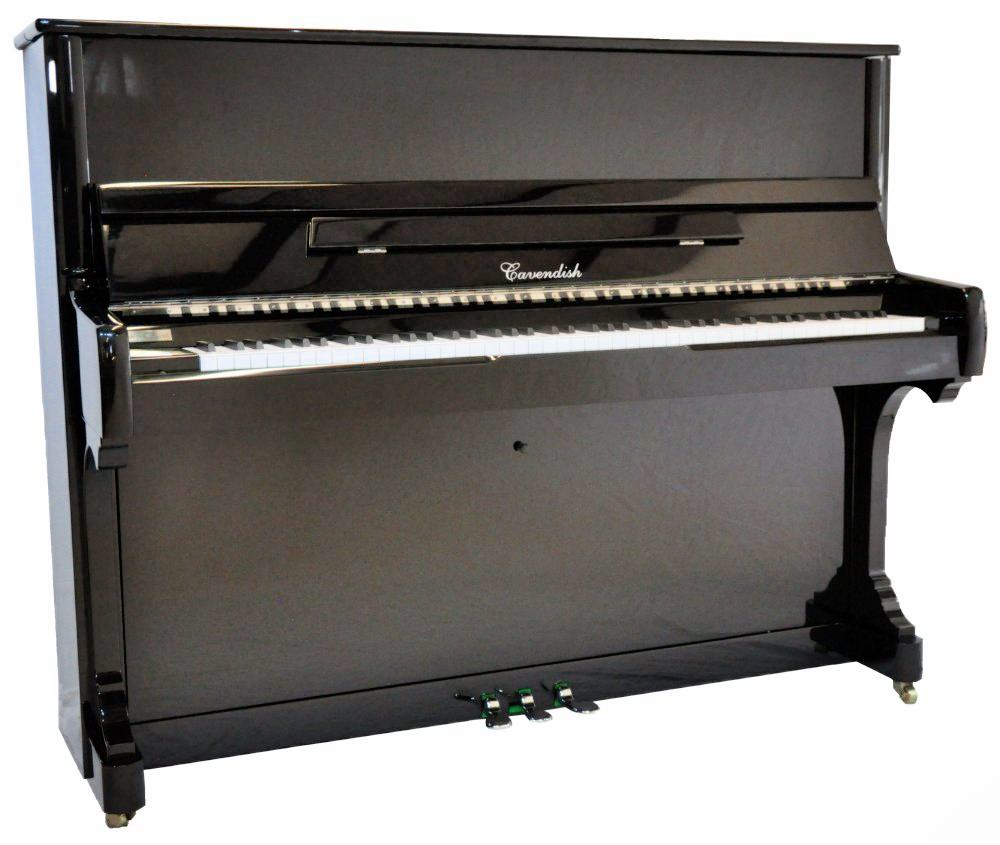 Cavendish Contemporary 121 upright piano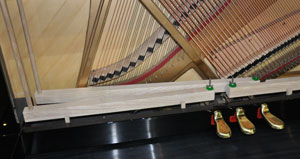 Upright piano pedal action.
Most mass produced piano makers find it more cost effective to make pedal actions from a variety of tubular metal and plastic parts. The shortcomings of such materials are various. Wear and tear on such parts can be high and failures can result after a short number of years. Metal parts are "clunky" producing unwanted mechanical noise. Cavendish only use Native grown ash and oak and British-made cloths and felts for their pedal parts. These are the traditional materials and can be seen to have lasted a hundred years in older pianos.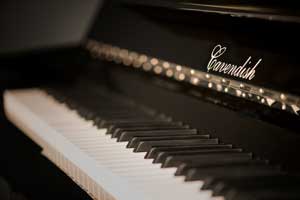 British Made Cavendish Pianos are made to the most exacting standards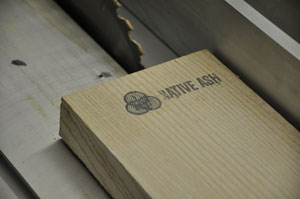 Cavendish Pianos use native British hardwoods.
Cavendish Contemporary £8,500
Sleek, modern contoured lines and a hand-finished ebony, high-gloss finish on the exterior. On the interior a piece of English piano-making history.
At 121cm high (or 4 feet in old money) this sets the traditional dimensions of an upright piano. The key length, soundboard area and string length are all optimum to produce the power, dynamic range and subtleties of a superb all-round piano. "The traditional English makers knew what they were doing" says Adam Cox at Cavendish "For many reasons this seems the 'natural' dimensions for a piano and gives us the opportunity to create the mellow warm tone we require"
Particular attention is paid to the exact weighting of keys. Like all the processes of Cavendish piano building this is done by hand in the Yorkshire Dales based factory. Unlike mass produced pianos where an average key weight is calculated and all pianos are built in the same way, at Cavendish each individual key of the Contemporary model is weighted for each individual piano giving the best playing experience. "Every piano is different" says Cox "and this ideal is at the heart of every piano we build - each piano truly is unique."
The Cavendish Contemporary is British built to the highest standards without compromise. Perhaps that's one reason why this model won the "Best Piano" category in the prestigious Music Industry Association's awards.
Dimensions:121cm high, 153cm wide, 62cm deep Price:£8,500                                                         Includes matching adjustable stool and delivery (UK mainland ground floor)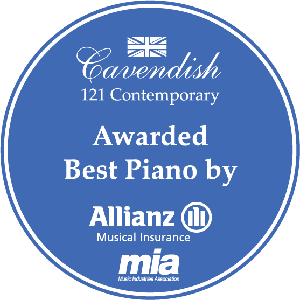 If you decide to trade-in your Cavendish upright piano for a new Cavendish grand piano at any time within ten years, you will receive a trade-in credit equal to your original purchase price.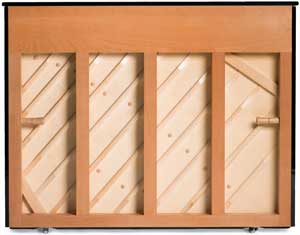 High gloss ebony piano-black finish as standard. Any other finish to order.